Woolopolis

1st place d3 Housing Tomorrow Competition
Exhibited at Giles Hall Gallery, MSU School of Architecture, March 28th - April 20th 2012
Featured on Archdaily, Archinect , Bustler

In collaboration with Henry Stephens.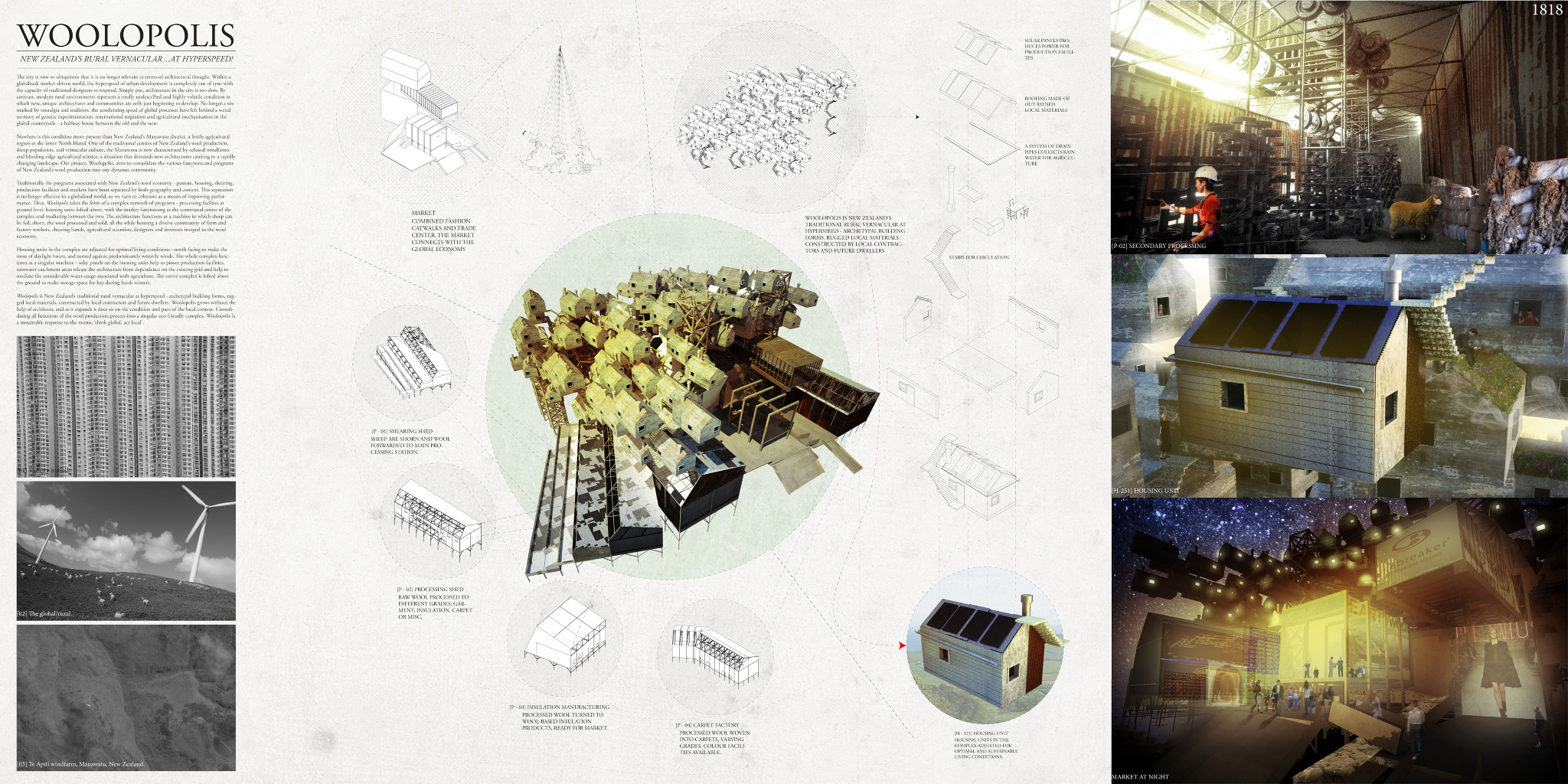 The city is now so ubiquitous that it is no longer relevant in terms of architectural thought. Within a globalised, market-driven world, the hyperspeed of urban development is completely out of sync with the capacity of traditional designers to respond. Simply put, architecture in the city is too slow. By contrast, modern rural environments represent a totally undescribed and highly volatile condition in which new, unique architectures and communities are only just beginning to develop. No longer a site marked by nostalgia and tradition, the unrelenting speed of global processes have left behind a weird territory of genetic experimentation, international migration and agricultural mechanisation in the global countryside - a halfway house between the old and the new.
Nowhere is this condition more present than New Zealand's Manawatu district, a fertile agricultural region in the lower North Island. One of the traditional centres of New Zealand's wool production, sheep population, and vernacular culture, the Manawatu is now characterised by colossal windfarms and bleeding-edge agricultural science, a situation that demands new architectures catering to a rapidly changing landscape. Our project, Woolopolis, aims to consolidate the various functions and programs of New Zealand's wool production into one dynamic community.
Traditionally the programs associated with New Zealand's wool economy - pasture, housing, shearing, production facilities and markets have been separated by both geography and context. This separation is no longer effective in a globalised world, so we turn to cohesion as a means of improving performance. Thus, Woolopolis takes the form of a complex network of programs - processing facilties at ground level, housing units lofted above, with the market functioning as the communal centre of the complex and mediating between the two. The architecture functions as a machine in which sheep can be fed, shorn, the wool processed and sold, all the while housing a diverse community of farm and factory workers, shearing hands, agricultural scientists, designers and investors integral to the wool economy.
Housing units in the complex are adjusted for optimal living conditions - north facing to make the most of daylight hours, and turned against predominantly westerly winds. The whole complex functions as a singular machine - solar panels on the housing units help to power production facilities, rainwater catchment areas release the architecture from dependence on the existing grid and help to mediate the considerable water-usage associated with agriculture. The entire complex is lofted above the ground to make storage space for hay during harsh winters.
Woolopolis is New Zealand's traditional rural vernacular at hyperspeed - archetypal building forms, rugged local materials, constructed by local contractors and future dwellers. Woolopolis grows without the help of architects, and as it expands it does so on the condition and pace of the local context. Consolidating all functions of the wool production process into a singular eco-friendly complex, Woolopolis is a sustainable response to the motto, 'think global, act local'.